Dr Martin Marinus Meyer, Jr was born in Wichita Kansas on Christmas Eve 1936. Martin
(Martie) was the first of 5 children born to Martin Marinus Meyer Sr. and Francis
(Frankie) Puckett Meyer. His Dad was a prize winning boxer and expert nurseryman and
his Mom, a talented secretary and skillful homemaker as the family grew.
Martin spent a lot of time with his grandfather growing up, and at the tender age of eight,
was boosted into the seat of an International Harvester model A tractor and asked to
drive as a hay raker in his Dad's custom bailing operation. His love of driving, from long
summer road trips to short grocery-getting trips, never waned. To help make ends meet,
Martin would hunt rabbits with his Dad and fish with his Grandpa. And as a reward for
his hard work, his Grandma Nellie would often bake him his favorite 'krenten broodje' (a
traditional Dutch bread with currants, raisins and sometimes candied peel).
Martin excelled at school and graduated from Wichita East High School with multiple
scholarship offers. He chose Kansas State University to study Horticulture, the plant
science that was already in his blood. While at K-State he served in the National Guard
and drove his 54 Chevy Bel-Air home on weekends to help out in the family fields and
nursery. After graduating with his Bachelors, Martin returned home to work until the
academic life called him back. He received a fellowship and graduate assistantship to
Cornell University in Ithaca, NY. There he completed a Masters and PhD, met and
married his wife Betsy, and was offered a Fulbright scholarship to study in the
Netherlands, homeland of the Meyer family.
Upon return from Holland, life got busy. Martin accepted a position at the University of
Illinois Champaign-Urbana as a professor of Horticulture. His son Marc was born that
same year, and just two years later, his daughter Grace Melinda arrived. He joined the
C-U Camera Club and his passion for photography resulted in numerous prize-winning
photographs. On an academic schedule, with summers off, the family took epic road
trips in a green Dodge Tradesman Van that Martin converted to a Camper. The trips
featured visits to endless arboretums, museums, botanical gardens, national parks and
other points of interest.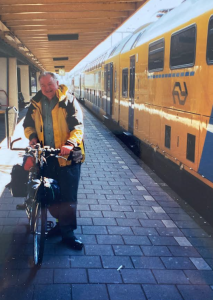 In 1972 Martin and his family took sabbatical in Corvallis, Oregon. It was the first time
the kids had seen the ocean, mountains, and the endless green everywhere! It made
quite an impression on Martin as well. And in 1988 he took a solo sabbatical in Seattle.
The beauty and terrain of the West coast, including its centuries old geologic formations,
got into Martin's blood.
After 30 years as a distinguished professor of horticulture, tissue culture, and plant
pathology, Martin took an early retirement and moved to Seattle to pursue his love of the
outdoors. He purchased a delightful little bungalow in Ballard on 54th NW directly across
from Gillman playground and innumerable little league games. He always said he had
the best seat in the neighborhood!
For recreation, Martin loved bicycling. In the early 90s, he and his daughter Grace
bicycled around the Netherlands for several weeks. Back home in Seattle, he especially
loved the Burke-Gillman trail. And in 1997, he trained for and completed the STP
(Seattle to Portland ride)! For fun, he joined a group called the 'Queen Anne Friends'
which became a source of company for bike rides, happy hours and weekend brunches.
The QAF also spawned numerous enduring friendships.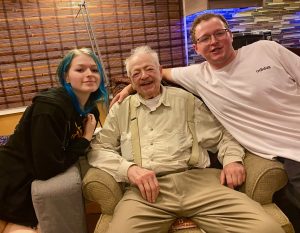 Martin was also a big fan of lifelong learning and the University of Washington's Access
Course Program. The program allows those over 62 to 'audit' courses for a small fee. In
the 27 years he lived in Seattle, Martin took every Geology course available, some more
than once! And for over a decade, he drove the van for every UW Geology field trip,
escorting his younger classmates all over Washington. Many public Universities offer
similar programs – wherever you are – maybe you'll try it too?
Martin is survived by his daughter Grace (Melinda) Meyer; son-in-law Charlie Workman;
son Marc Meyer; grandchildren Matthew and Jennifer Meyer; sisters Janet Shockley and
Deanna Roberson; sister-in-law Margaret Meyer. Per Martin's request, there will be no
services. Condolences may be sent to Martin's daughter Grace at 6024 48 th Ave SW,
Seattle, WA, 98136.
Martin's daughter Grace and son-in-Law Charlie would like to express their deep
gratitude for the Love and support of their friends and family, for the thoughtful care
provided by Dad's longtime physician and friend Dr. Christopher Wong, for the staff at
Merrill Gardens in Ballard (Seattle), and for the wonderful care offered by
EvergreenHealth Hospice.
In lieu of flowers, the family asks that you consider making a donation to The Burke
Museum of Natural History and Culture https://www.burkemuseum.org Or the National
Park Foundation https://give.nationalparks.org