On May 13, 2023, after a very brief illness, we unexpectedly lost our beloved mother, Joan Louise DuBois.
Joan was born in Owensboro, Kentucky to John K. Helmers and Louise Helmers (Jerger). She was the oldest of four children.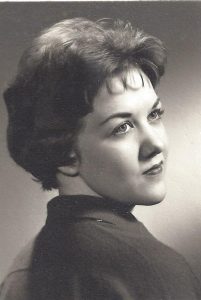 Joan graduated from Elmhurst University and taught elementary school in Lombard, Illinois where she met the love of her life, Denis DuBois. They were married on December 28, 1963.
In 1967 they moved their infant daughter, Michele, and Alaskan Malamute puppy to American Falls, Idaho where their second daughter, Charise, joined the family.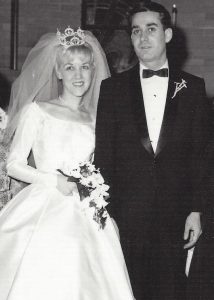 In 1969 the family moved to Bellevue, Washington where Joan started a small family daycare which she ran for 42 years. Over those years she was the second mother to many young children, some of whom later asked her to then care for and help raise their children. She also helped care for her beloved granddaughters Janelle and Cassie.
For many years, the family attended St. Margaret's Episcopal Church where, among other activities, Joan sang in the choir. She and Denis were also avid square dancers and enjoyed their bridge groups. She was active in the Bellevue School District Faculty Wives and served as president of the Faculty Wives and Enatai PTA.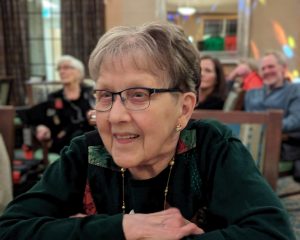 Joan was exceptionally talented and creative. She loved crafts and was always working on new projects which she then gifted to friends, family, and the children in her care. She was an excellent seamstress and in addition to craft projects, she sewed many of her daughters' holiday clothes and dance competition outfits. Eventually, her artistry turned to quilting. She became active in local quilting groups and over the years created countless spectacular quilts, winning many awards at quilting shows. Family and friends will always be reminded of her when we look at our wall art, take out our holiday decorations or cuddle under one of her beautiful quilts.
Her kindness and humor will be missed by the many people whose lives she touched over the years. She loved entertaining and socializing. She was an excellent cook and always welcomed anyone without nearby family to enjoy her holiday meals. She cooked for an army so there was always plenty to share. Her hearty laugh and bright silver-blue eyes lit up the room. She was always ready for a new adventure and enjoyed travelling, visiting craft and quilt shows, shopping, and any activity that brought her family together.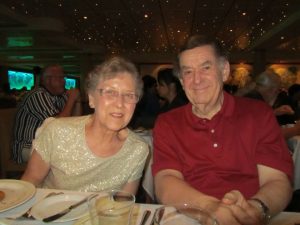 Joan passed away just one month after her beloved husband Denis. In December, they would have celebrated their 60th wedding anniversary. She is also predeceased by her parents and brother, John H. Helmers. Joan is remembered with love by her daughters Michele Hendrikse DuBois (Remco Hendrikse) and Charise Eliason (John Eliason), granddaughters Janelle and Cassie Eliason, sisters Judi Strong (Bill) and Janet Clark (Sonny), and many nieces, nephews, and friends.