Benjamin Alfred Alix, born September 10, 1979 in Richmond, Virginia, passed away at his home in Olympia, WA on February 7, 2020 from cardiac arrest.
Ben's early years in Londonderry, NH, were often spent playing outside with his siblings, expertly performing armpit flatulence, and roller-skating (sometimes simultaneously), usually clad in some form of Superman costume – often just a towel safety-pinned to his T-shirt. He never grew out of his love and appreciation for superheroes and superpowers, and was known to don a red cape well into adulthood. He also never lost his love of playing outside, and continued to roller-skate. (His family and friends neither confirm nor deny that the armpit flatulence continued.)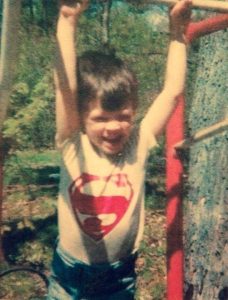 He was a highly sensitive, inquisitive, creative, and funny child, one minute doing impersonations of Sergeant Larvelle "Motor Mouth" Jones from the Police Academy movies, and another, having a quiet, sweet conversation with one of the family pets, or painstakingly making stop-motion animated films with Star Wars action figures and a black and white PXL-2000 video camera. His genius sense of humor and unfailing ability to make people laugh, his deep appreciation of nature and animals, and his incessant drive to create were the foundation of the man he grew up to be.
Leaving Londonderry in 1990, Ben moved with his family to Loudon, NH for a year, before settling in Contoocook, NH where he attended Maple Street Elementary School, and later, Hopkinton Middle/High School. 
While in high school, Ben spent a summer studying art at Skidmore College in Saratoga Springs, NY, which solidified his skills and set his compass permanently in the direction of art. After graduation in 1998, he moved briefly to Maryland with his mother and stepfather before returning to Derry, NH.
In 2002, Ben joined his sister, Dabney, in Thailand for an epic adventure and was forever changed by Thai culture and Buddhist teachings, which helped him open up to his own innate abilities as a healer, intuitive, empath and light worker.
In 2006, he made a brave, cross-country trek to Olympia, Washington, to share a home with Dabney, and some other friends who ended up being like a second family. Ben truly loved the Pacific Northwest, and had a deep connection with nature. He spent countless hours wandering through the forest, often with his beloved cat, Miss Min-Kee the Majestic Feline Warrior Huntress Queen, immortalizing through his camera lens all the beauty he saw.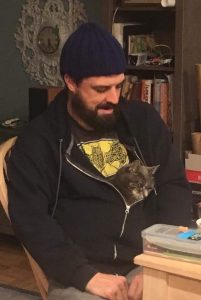 Having grown from a garden hobbyist to a professional master landscaper, he was able to honor his love of nature and connection to the earth while building meaningful relationships with his clients. He was very proud of having recently become the Common Area Manager at the Lakemoor Community at Ken Lake, where he lived.
Ben's life passions were art and music. He was a lover of hip-hop and known as a regular at open mic nights – singing, rapping beats, and penning conscious lyrics. As an artist, there was almost no medium with which he was unfamiliar. He was a painter, drawer, digital designer, cartoonist, photographer, lyricist, DJ, sculptor, and novice harmonica player. Ben always sought to lighten hearts and create good energy with his creations. In the last year of his life, he attended South Puget Sound Community College, where he was excelling in their advanced art program and had recently been added to the President's List for Outstanding Scholarship.
He will be remembered fondly by friends and family as so many things, among them a source of light and a gentle soul, a brilliant artist and musician, a deeply caring and generous friend, an 80s culture aficionado, a lover of bananas and maker of a mean steak, and our own kind of superhero.
Ben leaves behind his mother Martha Crowdes and stepfather George Crowdes, of Bivalve, MD; his father Alfred Alix, stepmother Moira Alix, and brother Joshua Alix of Windham, NH; his sister Dabney Alix, brother-in-law Conrad Slimmer, and their two children Orin and Una, of Santa Cruz, CA; and his sister Erin Morrigan and brother-in-law Bill Bourdon of Puerto Rico.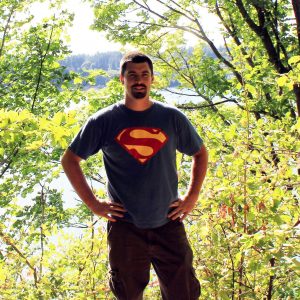 In lieu of flowers, please consider making a donation in his memory to the Olympia Parks, Art & Recreation Fun Fund (http://olympiawa.gov/city-services/parks/donations).
A celebration of life is planned for Saturday, March 28th in Olympia, Washington. You can view the invitation here: https://bit.ly/2uxaccC