Obituaries » Bing Can Xie
September 9, 1934 - April 29, 2020
Obituary Viewed 734 times
Xie Bing Can
September 9, 1934 – April 29, 2020
Xie Bingcan was born in Yuyao, China, on September 9, 1934, and passed away in Redmond, Washington, on April 29, 2020. He died of pancreatic cancer at the age of 85. The son of Xie Kaiyan and Chen A'xiu, Xie Bingcan grew up in Yuyao in Ningbo, spent his early adulthood in Shanghai, and later immigrated to the U.S. at the age of 60. His interest in traditional Chinese massage (tuina) and qigong began very early, before he was a teenager. Perhaps this is not so surprising, since he was born into a family of tuina lay practitioners. He practiced taijiquan (tai chi) intensively over many decades, eventually studying with some of the world's foremost taijiquan masters, achieving an extraordinary level of mastery himself, and sharing his formidable skills through his teaching. Right up to the time of his passing, he was still regularly traveling to China to continue teaching his students in Shandong and Fujian even as he carried on his tuina and teaching in Bellevue.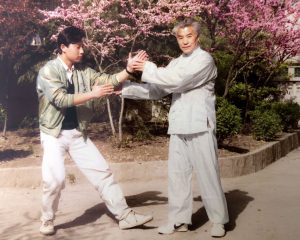 Xie Bingcan with Xie Jian
Xie Bingcan is preceded in death by his daughter Xie Juwei (d. November 24, 2011). He is survived by his son, Xie Jian, and grandson, Xie Xinghao, as well as his elder sister, Xie Lingdi, and her children and grandchildren.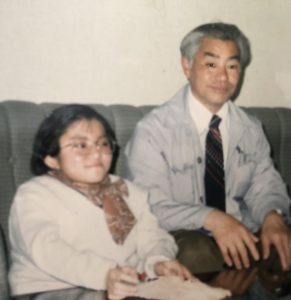 Xie Bingcan with Xie Juwei
Due to the pandemic and "Stay Home, Stay Healthy" order, no memorial service is planned at this time. Xie Bingcan will be dearly missed by his family, friends, and his many students in North America and in China. His loss will be felt throughout the global taijiquan community. Please share your memories and condolences in the guest book. And see below for a eulogy written by the deceased's son (translated from Mandarin) as well as a condensed professional bio and more photos.
Eulogy for Xie Bingcan
by Xie Jian, May 2020
Old father has gone. He went to another world.
His passing was very sudden—he departed without leaving us even a few words—yet he left me endless memories.
Father's life was simple but not ordinary. He was born in Zhejiang province. Because of my grandfather's early death, my grandmother's poor eyesight, and the family's poverty, my father was supporting his family early on by working in the trades. When he was about 20 years old, he brought his mother to Shanghai to try to eke out a life there. He applied himself to the task and soon landed a job as a skilled worker in the repair shop of the Shanghai Mechanized Construction Group Company.
Ever since childhood, he has loved martial arts. In 1958, Master Fu Zhongwen's Shanghai Yongnian Taijiquan Club was recruiting students in Shanghai, and my father was among those who joined up.
From then on, he formed an indissoluble bond with taijiquan. In the course of studying, my father worked hard and studied hard, practicing taijiquan twice a day, one session in the morning, one in the evening, each about ten times through the form without stopping. Except for sleep and work, his time was devoted entirely to taijiquan.
That is how my father's "taiji life" began. In 1975, he started offering taijiquan classes in Changfeng Park, providing instruction in Yang style and covering saber, sword, and push hands. He won unanimous praise from his students. In 1980, he began teaching taijiquan at the invitation of the Physical Education Department of East China Normal University. In 1983, he was invited by the Shanghai Wushu Association to serve as a wushu competition judge, and he maintained his certification as a first-rank martial arts judge through 1993. In 1985, he was invited to join the membership of the International Medical Qigong Research Association. In 1986, a friend introduced him to Mr. Ma Yueliang (the successor of Wu-style taijiquan and senior disciple of Wu Chien-ch'uan, founder of Wu style), and my father started studying with him. Around 1994, under the sponsorship of Bellevue Community College, he started teaching taijiquan in the United States. He continued his teaching of taijiquan in America right up until his death this year.
Father was upright, kind, hardworking, and thrifty. Whether it was to do with work or family responsibilities, he was conscientious. Toward colleagues, he was caring and friendly; for his students, he taught by precept and by example; and toward his children, he was both strict and kind. He looked after his friends and relatives, and was helpful and neighborly in his community.
Throughout his life, my father faced his share of hardships and always worked diligently. While his every word and deed are not for us to follow, our venerable teacher gave us not only the method of taijiquan but even more so the truth at the level of ideas and soul. His spirit inspires us and will lead us onward!
And, finally, I wish him all the best on his journey in search of his own "great Way."
Xie Jian
May 9, 2020
CONDENSED PROFESSIONAL BIO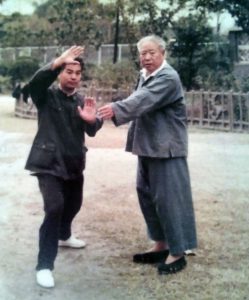 Xie Bingcan and Fu Zhongwen, 1972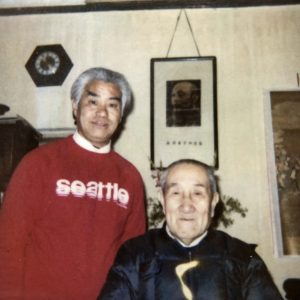 Xie Bingcan and Ma Yueliang
Xie Bingcan began learning qigong in 1945, and then learned Wu-style taijiquan (1949-53) followed by Yang style (1954-55). He moved to Shanghai around 1954, and then studied a simplified form (1962-64). He studied Yang style directly under Fu Zhongwen from 1972 to 1980, and from 1987 to 1991 studied Wu style under Ma Yueliang.
His taijiquan teaching career began in 1964 when he started teaching at Shanghai Mechanized Construction Group Company. Between 1980 and 1993 he coached at many institutions and organizations in China, including East China Normal University, Zhejiang Normal University, Jinhua City Association of Wushu, Jinhua Railroad Association of Wushu, Jinhua Electric Energy Bureau, Jinhua Veteran Cadre Bureau, Rui'an Teacher Training School, Yongkang County Association of Qigong and Wushu, and Shanghai Science and Technology University. He served as referee and judge at wushu competitions throughout this period.
In 1994, he moved to the U.S., settling in the Seattle metro area, first teaching at Bellevue Community College and then adding classes at Samena Swim and Recreation Club followed by establishing his own school, Bellevue Tai Chi (formerly Northwest Tai Chi and Qi Gong Association). Alongside his teaching, for more than 50 years he treated patients with tuina. His articles have appeared in T'ai Chi magazine and the Chinese Qi Gong Science Journal.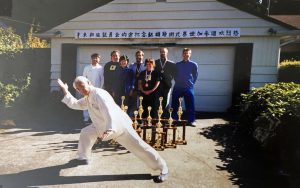 Xie Bingcan with some of his American students