Obituaries » Eleanor Kathleen Gordon

Print Friendly Version
Check your settings when you are happy with your print preview press the print icon below.
Show Obituaries Show Guestbook Show Photos QR Code

Print
March 29, 1921 - April 28, 2018
Obituary Viewed 6213 times
Share your Memorial with Family & Friends
Mrs. Eleanor "Ann" Kathleen (Maloney) Gordon, of Wheelock, North Dakota, born on March 29, 1921 in Williston, North Dakota, passed away at age 97 on April 28, 2018 in Spokane, Washington.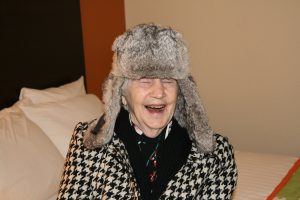 Eleanor is survived by her son, Kelly; and daughters, Nancy and Kathy. Ann had dozens of grandkids and great grandkids and was known as Auntie Ann to many children through the years.
She was one of four children. Her older brother was Francis (Lefty) and her older sister was Irene(Hi).
Her brother Elwood(Al) and she were very close. They were the first twins to be born at Mercy Hospital. The Maloney's were the only Irish Catholic family in a town full of Norwegian Lutherans. She used to recount the story: One Sunday when her father returned to town after mass from a town nearby she said his Lutheran buddies asked him what the sermon was about, and he replied "purgatory." They then quickly countered that Luther had dispelled the idea of purgatory long ago. Charlie Maloney replied, "now wait a minute how could a person go directly from North Dakota to heaven?" "It would be too much of a shock to the system".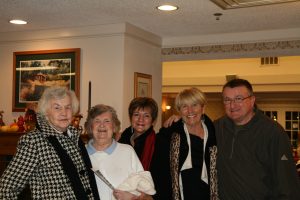 They were a farming family but during her childhood there was a drought that lasted over ten years. They lost their farm but regained it years later. The great depression began when she was eight years old and despite the drought and a devastated economy, she always said those years and were some of the happiest of her life. They played ball, had dances, and spent lots of time with each other. The town's people all shared what little they had with each other and it was a joyous time.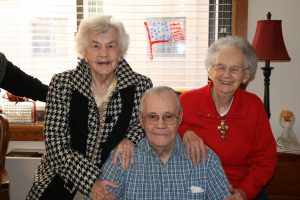 She was salutatorian and Elwood valedictorian at Wheelock High in 1939 and continued her education at the Interstate Business College in Fargo and, upon completion, she moved to New York. She was a travel agent for the federal government arranging travel for those involved in the Manhattan project. She set up travel plans for Oppenheimer, Groves and others but had no idea what they were up to.  After the second world war she married Willis (Flash)Gordon. They had six kids very quickly and on top of raising the brood, she had to work outside the home. Dad's service had him on the USS Raleigh at Pearl Harbor attack and on the USS Baldwin at Normandy on D-Day. PTSD plagued dad but she steadfastly stayed with him through his difficulties until he passed in 1964. His death left her in tight times, but she single handedly raised her kids devoting her entire life to her children and their families.
Her days at for Fircrest School in human resources were legendary. She had a knack for remembering all the staff and residents in a facility that cared for over 1000 people. Over the years she gave many friends and neighbors the opportunity to work at Fircrest so they could provide for their families. Despite her modest income her children never wanted for a thing. She always put us first and her own needs took a backseat. Worldly possessions were of little consideration to her. the only thing that mattered to her were her friends, coworkers, relatives and pets. It's true – she considered every animal in the world her own personal pet.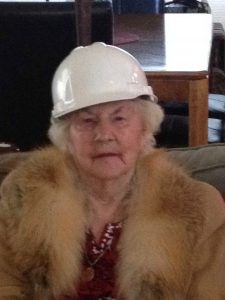 In recent years as her health declined and she was unable to walk anymore. She spent a lot of time in her room in bed and all of us family would go see her. She was always so glad to see her family. Upon arrival, she would mention repeatedly how great you looked. Her medical workup clearly didn't include eye exams.
She took immense pleasure relating stories of children she came in contact with, especially recounting funny things her children said as kids. "Me hates that," "You're my big buddy and I love ya," "Uncle Frash got shave cream on he's face," were a few lines she recalled that always brought smiles. There were dozens more…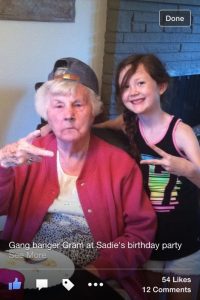 Ann Gordon taught all of us in our family how to be a loving parent and a good friend. To say that she "would give you the shirt off her back" doesn't even begin to describer her selflessness. She embodied the spirit of giving and kindness to others and we will miss each and every day of her bright spirit.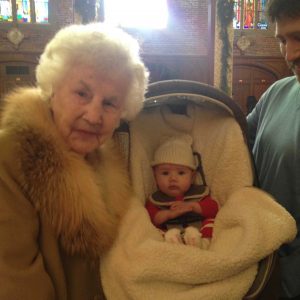 Special thanks to all the staff at Vesta Adult Family Home Spokane WA. They treated her like family and became a part of our family because of their kindness and compassion.
Friends and family are welcome to attend the funeral service, officiated by Father David Mulholland:
Friday, May 4 from 10:30 a.m. to 12:00 p.m. at St Mark Catholic Church, 18033 15th Pl. N.E., Shoreline, Washington, 98155 with reception immediately to follow. All are welcome to join at the 2:30 p.m. committal service at Holyrood Cemetery.