Obituaries » Robert M Ballinger

Print Friendly Version
Check your settings when you are happy with your print preview press the print icon below.
Show Obituaries Show Guestbook Show Photos QR Code

Print
October 31, 1935 - January 24, 2021
Obituary Viewed 576 times
Robert Moore Ballinger passed away peacefully at the age of eighty-five on January 24, 2021.
Robert was the son of Winifred Frazer Ballinger and Carl Jay Ballinger, Jr. He is survived by his loving wife of fifty-six years, Marcella Lemoine Ballinger, his children Robert and Nicole Ballinger, their spouses Robyn Angliss and Peter Warner, his brother Carl Jay Ballinger III, and sister Elizabeth Ballinger, as well as numerous nieces and nephews. Robert lived with Marcella at the Cogir of Queen Anne Senior Living Community in Seattle.
Robert was born in Honolulu, Hawaii on October 31, 1935. Grandparents Robert Frazer and Elizabeth Jackson Frazer, who immigrated from Scotland to Hawaii in 1919, played an active role in raising Robert during his early years. To the family, Robert was affectionately known as "Robin."
One of Robert's early memories was the December 7th attack on Pearl Harbor. His father was a Navy fighter pilot at the time of the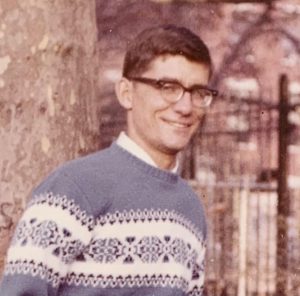 attack, already at sail in the Pacific. As his father sailed into the conflict, Robert and his mother evacuated Hawaii on one of the first civilian passages to the mainland to stay with Carl's parents in Santa Barbara, California. Young Robert helped his mother roll a shipment of bandages for the war effort during the journey.
After the war, Robert lived with his parents at many naval bases across the United States including Pensacola, Florida, St. Simon's Island, Georgia, and Bremerton, Washington. He attended more than a dozen different grade schools. He was a natural bookworm, and his mother recalled that "he read the encyclopedia, not comics like other kids." Robert loved building model airplanes. Little brother Jay would sneak in to crash the model planes, and Robin would patiently rebuild them. If a plane was too far gone, Robert would invite Jay to properly blow it up with a few fireworks. In his teens, Robert became a car nut. His prized possession was a beautifully restored and hot rodded '34 Ford.
Robert attended the University of Kansas, studying industrial management and serving in the Navy Reserve, where he honed his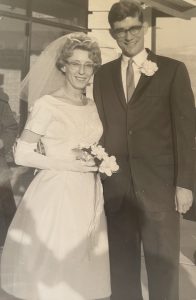 mechanical skills as a Machinist's Mate. After graduating in 1958, he started a long and varied career as a draftsman for Sprague Electric in North Adams, Massachusetts. Although quiet and reserved in nature, Robert had an adventurous streak. He learned to fly and raced sports cars in regional events. After his racing partner crashed their Cooper Mini, Robert purchased an old Austin?Healy 100. It was a perpetual work in progress, but it also added to his bachelor cachet. After moving to Northern New Jersey, he met Marcella Ballinger, an executive administrator at a pharmaceutical company. Family members remember them dating: Robert behind the wheel of the convertible, with a joyful Marcella sitting alongside him, a scarf tied over her strawberry blonde hair. Sparks flew during ski club outings, and they were married on New Year's Day of 1965. Robert and Marcella started their family with the birth of their son Robert Harry in the next year.
Robert continued his studies, earning a certificate in foreign trade from the Thunderbird School of Global Management in Glendale, Arizona. He learned to speak in Spanish, and that led to work as a Latin America sales representative for Walter Kidde & Company. Robert traveled throughout Central America, sometimes bringing Marcella along to explore the region's magnificent culture. After accepting a new role with Bay Area technology company Systron Donner, they moved to Orinda, California in 1970. Robert and Marcella's daughter Nicole was born there.
Some of Robert's greatest gifts were his passion for learning and teaching others. In 1973, he earned a Master of Business Administration from California State University at Hayward, and soon after decided to "get out of the rat race" and become a college professor. He became an assistant professor at Berkshire Community College in Pittsfield, Massachusetts in 1973, which meant another move across the country. Robert and Marcella bought a camper truck for the move, which ignited their love for camping and exploring the country. Camping trips with Marcella, the kids and their two Shelties, Puffy and Chico, became something he looked forward to every summer.
Settling into life in the Berkshires, Robert treated his young family to the history and culture of the region, visiting museums,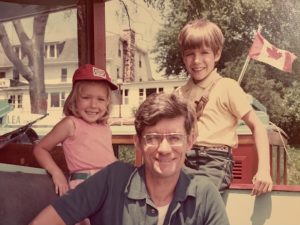 historic sites, and volunteering at the Tanglewood performing arts venue. He spent his summer days on home improvement, and in winter took the kids for ski lessons on the local hill. He drove a Fiat Spider, which was utterly impractical but beautiful to look at and fun to drive. He even tried some ice racing on the deeply frozen local lakes, but not in the Fiat! Moving back east enabled spending more time with Marcella's extended Lemoine family, who adored his thoughtful and easygoing nature at annual family reunions in Nutley, New Jersey.
After four years at the community college, Robert was offered a tenure track position at Siena College in Loudonville, New York. The family moved to Wilton, New York, near Saratoga Springs. At Siena, Robert loved teaching International Business, Organizational Relations and Marketing in the small college setting, where he could get to know and mentor his students. He also taught older, non-traditional students through the Empire State College Center for Distance Learning and was active in the Albany chapter of the World Trade Council.
During these years Robert developed a passion for small boat sailing. He purchased a beautiful wooden Windmill Class sailboat and joined the Kaydeross sailing club on Saratoga Lake, which was adjacent to a popular amusement park. Robert, Marcella, and the kids would pile into the narrow, tippy boat with big sails for hours of summer fun. After capsizing one too many times, Marcella learned that sailing was best observed from shore through binoculars, although she did appreciate that sailing was less dangerous than racing sports cars.
When the Kaydeross club closed, Robert joined the Saratoga Lake Sailing Club and was an active member, eventually holding the post of Club Commodore. The kids crewed for Dad many times during these years, helping him win a few series and when they were old enough, enjoying a cold beer afterward and recounting the day's adventures. Robert enthusiastically welcomed people to crew with him and loved to share how to fine tune boats for speed. To Robert, fast equaled fun!
Of course, life in New York state also meant contending with long, cold winters and snow. Always a thrifty dad, Robert installed a wood stove to help heat the house. After the boats were put away, he spent fall weekends splitting and chopping wood, enthusiastically waking the sleepy kids up early to help. When winter came, he turned the thermostats down and fed the wood stove. He cheerfully encouraged the kids to get out and shovel snow, even when all agreed it was just too deep and calling for a plow made more sense. Ever open minded and looking for fun on a budget, Robert took a chance on a Subaru four-wheel-drive wagon, decades before they became popular. He also discovered cross-country skiing and frequently took the family to explore the local golf course and parks on skis. Regardless of the season, Robert loved to be outdoors with his family.
Once the kids were off to college, Robert and Marcella traveled the country in their RV, visiting nearly every state and as many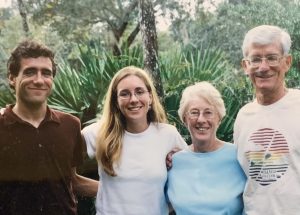 national parks and historic sites as they could. They settled down for a quiet retirement in St Augustine Shores Florida. Robert volunteered at the Castillo de San Marcos National Monument and was an active member of the St. Augustine Navy League, supporting a Jacksonville-based squadron. He kept himself fit swimming, walking, and sailing the warm coastal waters on his Hobie Wave, "Risky Business". Their condo looked out over the intercoastal waterway and he loved to watch the racoons, birds, and alligators from their deck. He had one last sports car there too, a jade green Mazda Miata, which was perfect for exploring the quiet coastal roads.
Robert's long fight with Parkinson's disease began in Florida, and when health became a concern for both Robert and Marcella, they moved to Seattle in 2012 to be closer to the kids. Robert bravely took on new treatments that allowed him to continue enjoying an active life, exploring the beautiful Queen Anne neighborhood, attending air shows and even trying adaptive sailing and biking. He made many friends among residents and staff of his retirement community. With his bright eyes and warm smile for all, he was loved for his curiosity, wit, and wisdom, and admired for his courageous fight against a cruel and debilitating disease.
Robert's long fight against Parkinson's disease was a daily struggle that he faced bravely, without complaint. Even in the most difficult moments, he would smile and say, "this is better than the alternative." Although Robert managed to stay a step ahead of Parkinson's for years, its steady advance left him vulnerable to other illnesses. In the end, he succumbed to complications from Covid-19.
Robert will be missed by all, and we carry his love and many happy memories with us in our hearts.
To honor Robert, donations may be made in his name to the American Parkinson's Disease Association at: 
apdaparkinson.org/donate
.