Obituaries » Ruth H Nomura

Print Friendly Version
Check your settings when you are happy with your print preview press the print icon below.
Show Obituaries Show Guestbook Show Photos QR Code

Print
April 9, 1932 - April 15, 2020
Obituary Viewed 4784 times
Share your Memorial with Family & Friends
Ruth Haruko Nomura
4/9/1932-4/15/2020
How does one sum up the entirety of the life that was Ruth Nomura in one essay? It's impossible to capture every unique facet of her amazing character. Everyone knew a different side of her, one that they alone experienced. How then can her niece who only saw one side of her write a tribute that can do her justice? Simply put, I cannot. I asked for input from her sister (my mother) and many of her friends and included their stories here. I have tried my best. I know there's more. Please sign the guest book and leave the stories you feel need to be told; the special stories that you hold in your hearts that make up the fabulous, magical, often imitated but never duplicated, woman that was Ruth Nomura.
Ruth was born Haruko Nomura on April 9, 1932, to James Shinzo Nomura and Sada Nomura in Seattle, Washington. Nine years later, she was joined by baby sister Yoshiko Nomura.
Shortly thereafter, their father was taken away from the family, a suspected spy. Soon after that, her mother, Ruth & baby Yoshiko were forced out of their home. They were allowed only what they could carry, and therefore had to leave most of their belongings behind, including the family dog. Together with all the other Japanese American citizens in the area, they were herded into the stalls at Long Acres racetrack before being transferred to the train which took them to the concentration camp in Minadoka, ID. Eventually her father was cleared of the charge of being a spy and was reunited with the rest of the family in the camp. They spent the next 3 years behind a barbed wire fence, watched over by armed guards.
Such an experience is quite traumatic and life-changing, and yet Ruth never complained. When asked about her time in the camp, she chose not to discuss it, or would simply say, "it was boring." Instead, Ruth preferred to focus on the present. A talent she kept throughout most of her life.
Because of the trauma the family experienced when they had to give up their beloved family dog, Ruth's parents could not bear to allow her to have another pet. Undeterred, Ruth & her little sister "adopted" neighborhood stray kitties and fed them cottage cheese. Thus she fostered her lifelong love of animals, and began her special relationship with cats. It turned out that Ruth was particularly gifted when it came to nurturing cats. Her first cat, Poppy, lived to be 26! Her second and last kitty, Circe, was 23 when she passed away.
Ruth finished high school in Renton, WA, and then went on to the University of Washington to study art. She was a talented artist, but even more talented at spotting and nurturing other artists to grow into their full potential.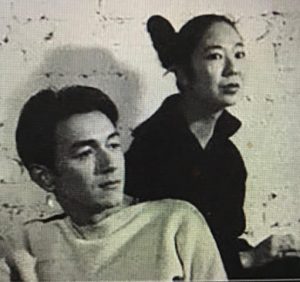 Ruth with Scott Hatori, circa 1955
Ruth's first foray into the art world was with her dear friend Scott Hattori, whom she met at the University of Washington. Together they opened Haru, a chic Japanese import shop on Pine St. in 1955. In 1962, after closing Haru, Ruth worked with her sister during the Seattle World's Fair at Yamaha Shoji, an import shop located adjacent to the fountain in the Seattle Center. Coincidentally, Yamaha Shoji was located directly across from the building that would become the famous Northwest Craft Center & Gallery, where Ruth ultimately made her mark in the art world.
In 1963 Ruth became the director of the Northwest Craft Center and Gallery in the Seattle Center. The gallery was started by professors from the UW art school and others in the Seattle arts community. With her discerning eye, Ruth nurtured and guided the center, showcasing both established and emerging artists of the Northwest for over forty years. Under her leadership the NWCC presented the cutting-edge clay work of Washingtonians Howard Kottler, Robert Sperry, Patty Warashina, Mary Robinson, Patrick McCormick, Mutsuo Yanagihara, Clayton James, Regnor Reinholdtsen, Paddy McNeely and Anne Hirondelle, to name a few. Ruth encouraged, guided, and championed hundreds of artists in clay, jewelry, and print making. Many artists credit Ruth and NWCC for launching their careers. Ruth knew all the great ceramic artists of the Pacific Northwest and welcomed their work. She showed painters and jewelers as well, and her excellent eye brought collectors from the NW and beyond.
Ruth had many admirers. Painters, musicians, architects, interior designers, actors, writers, and patrons of the arts from the Northwest and beyond would come to the NWCC to visit with Ruth, view the current show in the gallery and shop for unique gifts. John Franklin Koenig, Leo Kenny, Frank Okada, Tom Robbins, Warren Hill, Michael Cunningham, John Voorhees, Al Baumgartner, Vasiliki and Judge William Dwyer, Harold Balazs and many other NW luminaries would be invited into her office for a snack or a drink. Her office walls displayed her history. It was a shrine to baseball, animals and the many artists who became her friends.
Ruth stepped down as director in 2006 just a few years before the closing of the gallery in 2011. After more than 43 years at NWCC, she was surprised by a very large after hours party held in her honor. The gallery was jammed with many artists, friends and family. Everyone enjoyed much food and drink, a great celebration of an impressive career.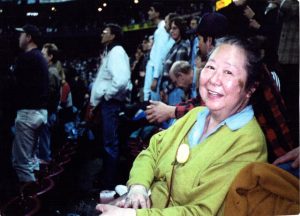 An avid baseball fan, one would often find Ruth tending the center with a small radio to her ear tracking the games. She held season tickets with her friend David Ishii, and could be found at most of the night games with him or another one of her many friends. Ruth often enjoyed trading an invitation to join her at the ballgame for a dinner at the latest new restaurant.
In addition to the visual arts, Ruth was also an enthusiastic attendee of the performing arts. She had season tickets to ACT, Intiman, the Rep. and loved attending performances of the Pacific Northwest Ballet with her sister. Ruth traveled to New York many times in the seventies and eighties. She loved going to see musicals such as A Chorus Line and the musicals of Stephen Sondheim. She would then buy the cast recordings and bring them home to learn them by heart.
Ruth also enjoyed international travel. She visited places such as Paris, France and Mexico. Always with close friends, tasting the local food and drinks and admiring the local art, she collected many souvenirs from around the world. She loved foreign films, dog shows, travel, and the Tapir at the zoo. She was the protective big sister, the favorite aunt, the loyal friend. She was loved by so many, and will be missed by all.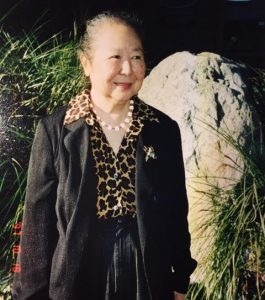 We will gather to celebrate Ruth's life and share stories as soon as we can safely do so. Unfortunately, the health risks are too high to gather at this time. We all know that Ruth would be angry with each and every one of us if we risked our health to assemble in her honor. While we wait for health  conditions to  change, let's all raise a glass to her from home and remember her in happier times.
In lieu of flowers, please send donations to one of the many charities that Ruth supported. Some of these included the Humane Society, ASPCA, PETA, & Planned Parenthood.